Trends that will be turning heads in 2020
---
---
---
Getting married in 2020 means having all types of amazing gown styles to choose from. Trends on bridal runways are varied enough to please any fashion sense, wedding theme, and personality. Here are 17 gown trends that will be turning heads in 2020 weddings.
1) Scalloped Necklines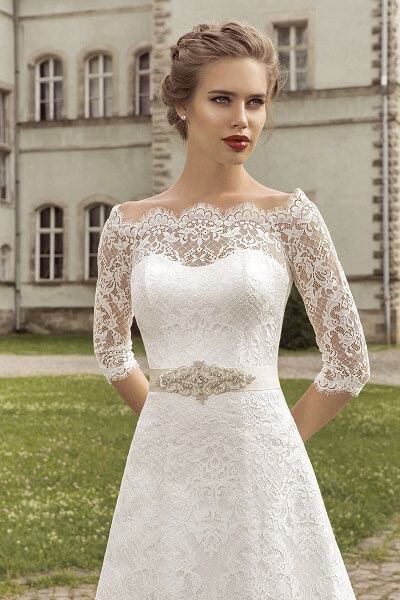 This look is a variation of a 1980s neckline that draws the eye upward and frames your face as you pose for wedding photos. Scalloping can be dramatic or subtle and can be combined with a translucent overlay on the bodice or stand alone.
2) Pantsuits with Trains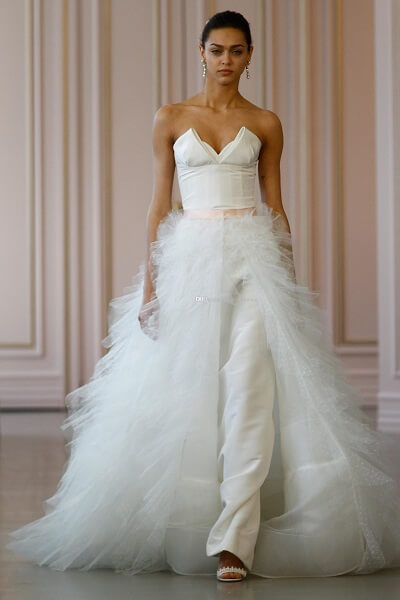 Wedding pants began to come into fashion a few years ago, and that trend is still evolving. This year, you'll find pantsuits with tulle attached at the waist and flowing into a train to trail behind as you walk down the aisle.
3) Asymmetrical Styles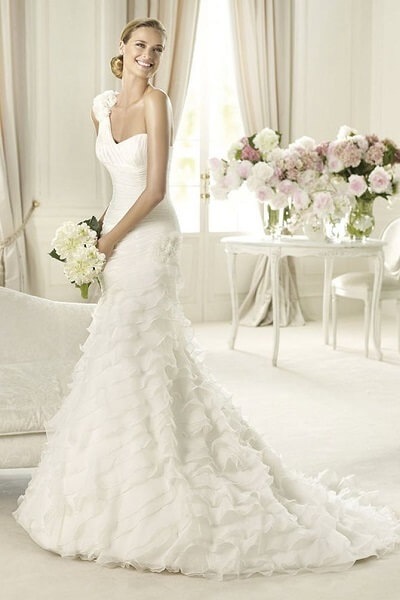 Many of the newest wedding gowns feature an asymmetrical element like a single strap across the shoulder, gathered fabric to one side of the waist or a skirt that is longer on one side than the other.
4) Swiss Dots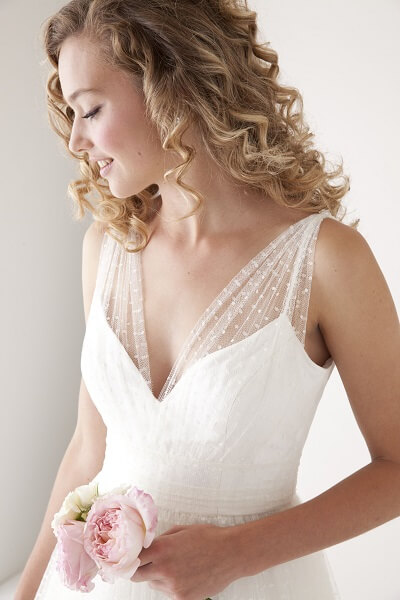 Swiss dots give a wedding gown a sweet look that is perfectly beautiful. It can also add texture and subtle detail to a dress that is otherwise simple. Choose this fabric for a low-key outdoor wedding or at a wedding with a vintage, 1950s theme.
5) Feathers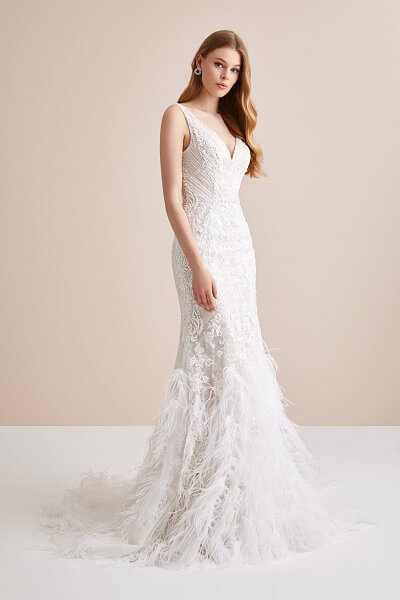 Adding feathers is an effective way of taking a gown to a whole new level of fashion forward. This dramatic detail can be found on sleeves and skirts of bold wedding wear.
6) Tiers of Tulle
Many brides dream of a ballgown with layers of tulle billowing out from the waist. This look can go even further when the tulle is in tiers. You can float down the aisle like you're wearing a cloud with this romantic trend.
7) Bridal Rompers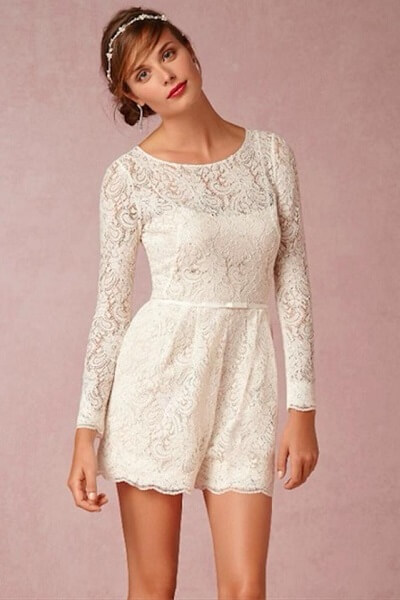 The bridal runway saw jumpsuits at last years fashion shows, and this year you'll see rompers. You can choose a sporty look with tight shorts or something with more flowing fabric. Many wedding rompers feature a lace overlay or long, puffy sleeves and may also have material attached at the back of the waist like a partial skirt.
8) Pockets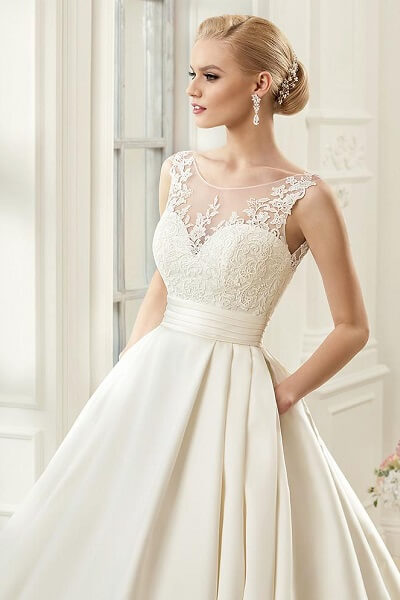 Having pockets in the seams of your skirt is both fashionable and practical. This trend is typically seen on A-line silhouettes but can be found in some ballgowns as well. Pockets are psychologically comforting and also a great place to stash supplies like tissues or lip gloss.
9) Full Ballgowns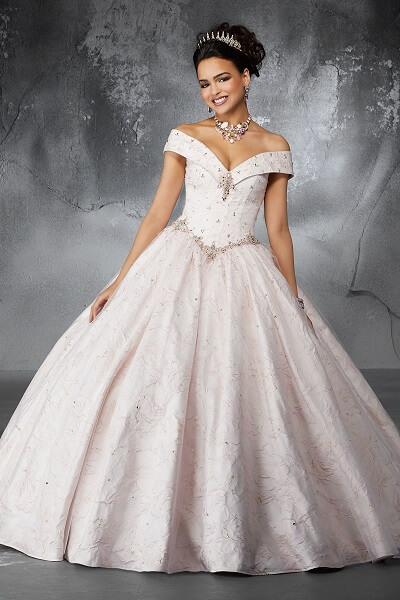 If you dream of being a princess at your wedding, this trend is for you. The past few wedding seasons have focused on sleek and sexy bridal styles, but the ballgown has returned this year as a popular choice. Skirts are as full as you want them to be, allowing you to live out the fantasy wedding of your childhood.
10) All-over Crochet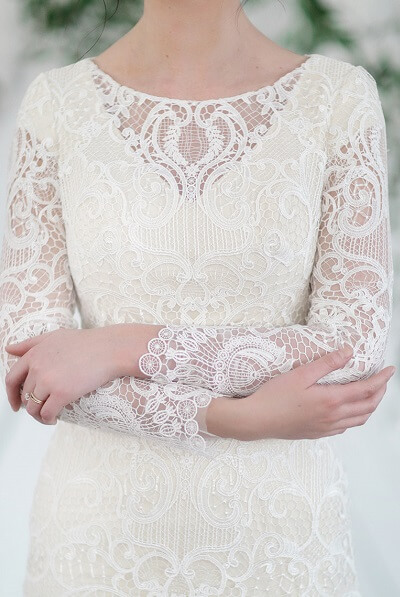 With a nod to the 1970s, crochet is back in fashion for wedding gowns. You'll find dresses with beautiful crochet patterns as overlays throughout the bodice and the skirt. The patterns themselves can be geometrical, floral, or artistic. This is a great choice for wedding with a bohemian flair.
11) Skirt Veils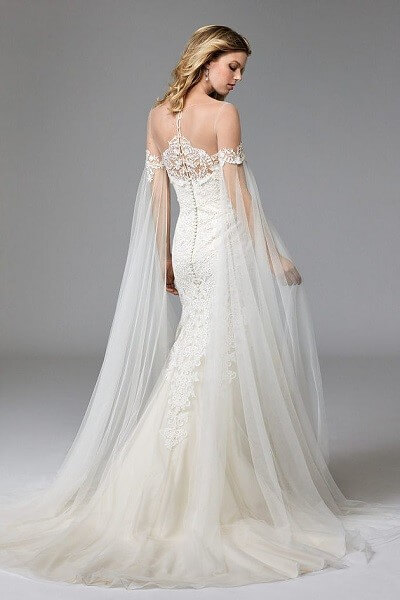 Veils no longer have to come from the top of your head. One growing trend is having a veil that is attached to your skirt at the waist like a soft cape. Many of these veils are long enough to have a train and can be detached after the ceremony.
12) Soft Green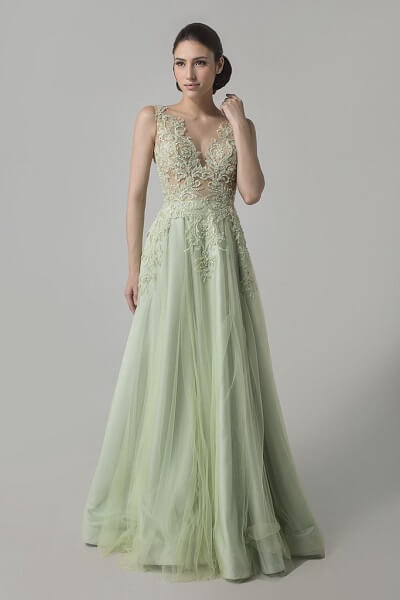 Wedding gowns no longer come in just white or ivory. Blush pink and pale blue have been very popular over the past several season. This year's fashionable wedding gown color is a soft, pastel green. Some gowns feature this color all over while others will have it in details like sashes or in patterns on the skirt or bodice.
13) Cropped Tops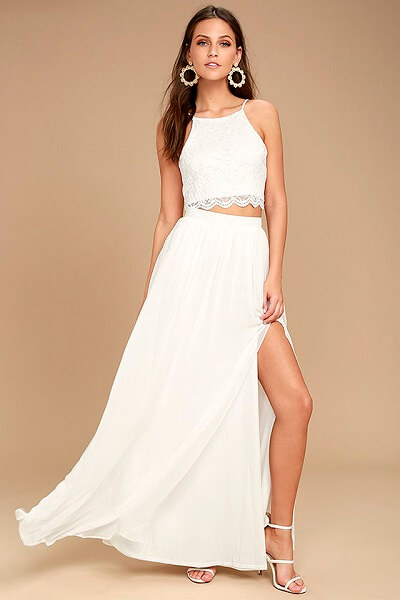 Two-piece wedding attire is becoming a huge trend, and the top piece is often cropped to show a strip of skin. You can pair a cropped wedding top with a skirt or with bridal pants.
14) Hi-low hems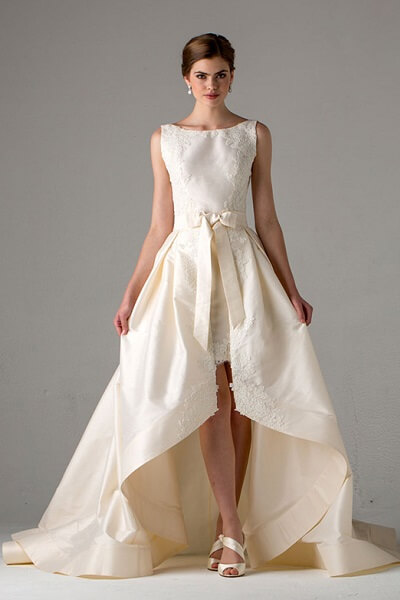 When you want to wear a traditional gown but show off your legs, the best option is a gown with a hi-low hem. Your gown can be full and long in the back but shorter in the front, adding a little sex appeal and a hint of rebellion to your ensemble.
15) Blazers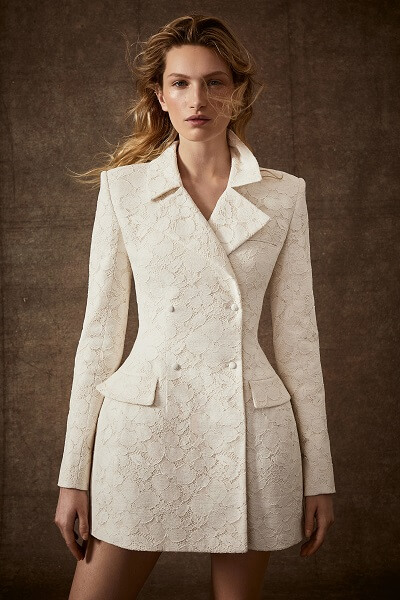 White blazers are a beautifully tailored style for brides who prefer the look of a suit. You can even go bold with this trend by wearing a long blazer as a mini-dress.
16) Super Puffy Sleeves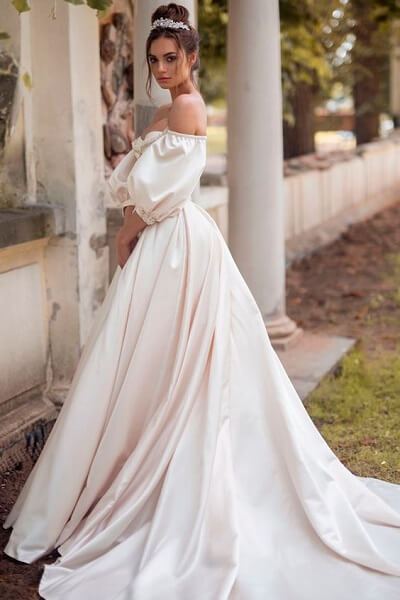 Puffy sleeves on wedding gowns are bigger than ever before. Puffed sleeves can start at the shoulder and go all the way down or can be off-the-shoulder and barely attached to the bodice. This very romantic trend is often seen on Renaissance style gowns.
17) Solid Satin
When you want to make a statement of beautiful simplicity, you can't go wrong with a gown constructed entirely of sleek satin from the neckline to the hem of the skirt. This sophisticated style is reminiscent of recent royal brides.
Choosing your wedding gown can be one of the most joyful and exciting tasks of your life. If you're planning on getting married in 2020, consider some of these wonderful trends when you shop for the dress you'll wear down the aisle.